Post by galvatron prime on Sept 11, 2014 5:34:03 GMT
Huang Xiaoming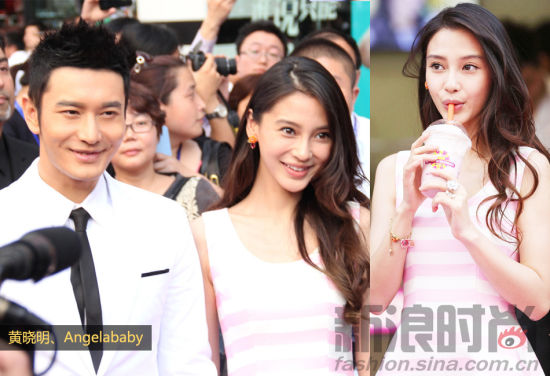 Huang Xiaoming (born 13 November 1977) is a Chinese actor, singer, and model. His best known roles in television are Yang Guo in The Return of the Condor Heroes (2006) and Xu Wenqiang in Shanghai Bund (2007). Huang graduated from the Performance Institute of the Beijing Film Academy in 2000, alongside other well-known actors such as Zhao Wei and Chen Kun. He first rose to prominence in 2001 for playing Emperor Wu of Han in the television series Da Han Tian Zi. The series reached number one in the ratings when it aired in Taiwan, and his later dramas all achieved high ratings in mainland China, Taiwan, Hong Kong, and Macau. In 2007, Huang signed a contract with Huayi Brothers and began focusing on his film career, appearing in movies like The Sniper, The Message, and Ip Man 2. In 2010 he starred in the Taiwanese drama Summer's Desire, alongside Peter Ho and Barbie Hsu. He returned to television in 2013, portraying the national hero Yue Fei in The Patriot Yue Fei.
Early life
Huang was born in Qingdao, Shandong and is an only child. His father was an engineer while his mother was an accountant. At age nine, he was selected by a film studio to play the child protagonist in a movie.[1] Throughout his school career, Huang planned to become a scientist,[2] but his language teacher encouraged him to apply to the Beijing Film Academy, which rarely came to Qingdao to recruit students. A week before his entrance examination, his foot was run over and crushed by a jeep; luckily, the injury was not serious because he was wearing army boots. While studying at the Beijing Film Academy, Huang recall the person who had the greatest influence on him was a teacher named Cui Xinqin. Huang was also good friendship with Zhao Wei, and the three were known as the "Three Musketeers".
Career
Acting work
Unlike his classmates, Huang struggled to find work as the date of his graduation drew nearer. On the eve of his graduation, he received an offer to act in the TV series A Netizen's Diary (网虫日记). During filming, however, he was involved in a head-on collision with a truck and lost consciousness for more than half an hour. He had to get a total of six stitches on his chin and ear.
While filming Long Piao (龙票), Huang was involved in another car accident, which took place on the way from Yinchuan to Inner Mongolia. His head was scratched and his vertebrae shifted, and he was informed by a doctor that he had to wear a plaster cast for his head and neck for four months, otherwise the healing of his bones would be affected. But Huang refused to rest for fear of delaying filming and causing losses for the crew, so he appeared on set wearing a neck brace.
After his fellow Musketeers shot to fame, Huang did not think he would become famous as well, since one of the academy's teachers had said that it was difficult enough for one or two students from each graduating class to make it big. Fame found him in 2001, however, when he was chosen to replace Lu Yi for the leading role in Da Han Tian Zi. Because the TV series was such a big production, and Huang was virtually unknown, many people had misgivings but the foresight and boldness of the investors is now admirable. Huang starred in the series' three installments, from 2001 to 2005, and he went from a newbie to a front-line actor.
In 2004, Huang was chosen to play Yang Guo, the leading role in The Return of the Condor Heroes, a television series adapted from Jin Yong's novel of the same title, and a sequel to The Legend of the Condor Heroes (2003).[3] Director Zhang Jizhong selected him over actors Nie Yuan and Huang Jue to play the highly fought-over role. The role of Xiaolongnü, Yang Guo's love interest, was rumored to go to Zhou Xun,[4] but ended up going to Liu Yifei, who is ten years Huang's junior. Yang Guo is arguably Huang's most recognizable role to date.
Huang's most controversial and difficult, but most critically acclaimed, role was in Shanghai Bund, a remake of the 1980 Hong Kong television series The Bund, which starred Chow Yun-fat. Because Chow was his idol, he felt nervous, excited, and pressured about portraying the same role his idol had. In order to play Xu Wenqiang, he had to learn to smoke, and went through several packs a day. He also sang the ending theme for the drama, a duet with his costar Sun Li. The song was included in his first studio album, It's Ming, which was released in December of the same year.
On April 9, 2007, Huang signed with Huayi Brothers Media, an entertainment and record label. In October of that year, Huang purchased the company's shares. After acting in several films produced by Huayi, including 2009 espionage thriller The Message, he left the company in 2010. It has been said that he will switch to Asia Media Films Hong Kong, although this has yet to be confirmed.
In 2009, Huang was chosen to replace Dylan Kuo in the 2010 Taiwanese idol drama Summer's Desire, an adaptation of a trilogy by Ming Xiaoxi. Although originally slated to play Ou Chen, Huang asked if he could play Luo Xi instead. The drama also starred Peter Ho, who was the producer as well, and Barbie Hsu, with whom Huang had always wanted to work. He later admitted that he lowered his acting fee in order to participate in this series.
In 2010 Huang joined the cast of Chen Kaige's film Sacrifice, which was a big box office hit.
Non-acting work
In 2007, Huang signed a deal with Italian luxury brand Gucci to promote their 2008 limited edition sports line, becoming the first Asian celebrity featured in a Gucci advertisement. A production team flew from Italy to Hong Kong to shoot the print ads. In the same year, he also signed as a spokesperson for Mercedes-Benz. In 2008-2010, he was featured in advertisements for Pepsi, Toshiba, Diadora, and Tissot.
Huang is also known for participating in charity work and environmental friendliness events. On 7 July 2007, he performed at the Live Earth concert in Shanghai. He is also an ambassador to China's Panda Protection Research Center. In October 2008, he adopted twin pandas named Ping Ping and An An, the first panda cubs born after the 2008 Sichuan earthquake. In 2009, he was appointed as a UNICEF Ambassador and participated in a charity run that year. In 2010, Huang was awarded as one of the international well-known philanthropists.
Personal life
Huang Xiaoming had told media that while studying at the Beijing Film Academy, he had a big crush on classmate Zhao Wei (Vicki Zhao). They remained close friends. In 2013, showing up on crutches to help promote Zhao's directorial debut So Young to Zhao's surprise, Huang said: "Friendship is not meant to be taken out and showed off... It's been 16 years, and as long as Vicki needs it, I will definitely support and help her. It will always be like this."[12]
Huang had dated actress Angelababy since 2010.
Film[
Year Title Role Notes
1999 Marry Me
我们结婚吧
2000 Bright Heart
明亮的心
2005 Legend of the Dragon
龙威父子
2005 The Banquet
夜宴
2006 The Story of Ah Bao
阿宝的故事 guest appearance
2007 The Sniper
神枪手
2008 Fit Lover
爱情呼叫转移2 guest appearance
2009 The Message
风声 Takeda Nominated — Hundred Flowers Award for Best Actor
Nominated —Golden Rooster Awards for Best Outstanding Supporting Actor
2009 Searching for Dust
寻找微尘 guest appearance
2009 The Founding of a Republic
建国大业 guest appearance
2010 Ip Man 2
叶问2 Huang Liang Beijing Student Film Festival for Most Popular Actor
2010 Flirting Scholar 2
唐伯虎点秋香2 Tang Bohu
2010 Sacrifice
赵氏孤儿 Han Jue Nominated —Hong Kong International Film Festival Of Best Outstanding Supporting Actor
2010 Adventure of the King
龙凤店 Tang Bohu
2012 The Guillotines
血滴子 Tianlang
2012 Love in the Buff
志明与春娇2 guest appearance
2012 The Last Tycoon
大上海 Cheng Daqi (young)
2012 Inaccurate Memoir
匹夫 Fang Youwang also producer; Wan Xiang Award for Most Outstanding Actor in a Leading Role
2013 American Dreams in China
中国合伙人 Cheng Dongqing
2013 Badges of Fury
不二神探 man in black cameo
2013 Crimes of Passion
风花雪月 Xue Yu
2013 Saving Mother Robot
玛德2号
2013 Amazing
神奇 computer engineer
2014 Breaking the Waves
激浪青春
2014 The White Haired Witch of Lunar Kingdom
白发魔女传之明月天国 Zhuo Yihang
Television
Year Title Role Notes
1998 Love is Not a Game
1999 Bodidharma
1999 Evidence
2000 A Netizen's Diary
2000 Little Sister Hua
2000 Storm of the Dragon
2001 Da Han Tian Zi
2001 Invincible Magistrate
2001 Chang Ying Zai Shou
2002 My Fair Princess III
2002 Merry Wanderer
2003 Heroic Legend
2003 Da Han Tian Zi 2
2003 Womanly Skill and Manly Look
2004 Long Piao
2005 Da Han Tian Zi 3
2006 The Return of the Condor Heroes
2007 Shanghai Bund
2008 A Sunny Day Singer subway series
2008 Royal Tramp
2009 Dark Fragrance
2010 Summer's Desire
2013 The Patriot Yue Fei