Post by galvatron prime on Oct 15, 2014 8:30:12 GMT
TONY LEUNG KA FAI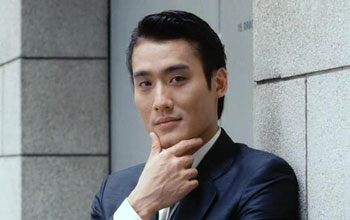 Other names : 梁家輝
Leung Ka Fai
Leung Kar Fai
Tony Leung Kar Fai
Liang Chia Hui
Liáng Jiā Huì
Liang Jia Hui
Birthdate : 1/2/1958
Nationality : Hong Kong
Workplace : France, Hong Kong
Activities : Producer (1), Writer (1), Actor (117), Brief appearance (2), Cameo (2)
BIOGRAPHY
To not be confounded with his homonym Tony Leung Chiu-wai, Tony LEUNG Kar-fai was born in 1957 in Hong Kong. Son of Western movies projectionnist, it is naturally that the young boy is attracted by the light of the cinema.
Adult, he followed courses of dramatic arts at the TVB... for nine months. He stoped his studies to form with several friends an arts and spectacles magazine. It is by this intermediary that he can approach the show business and engaged by the chinese Li Han-hsiang to play in his Burning Of The Imperial Palace. It is for this interpretation that Leung won the HK Award of the best actor in 1983. Because of the cold war between the two China, the actor was boycotted by the taiwanese distributors. Because of this loss of export earnings, the HK producers disparaged Leung during three years.
After these hard times, he was back in Prison On Fire of Ringo Lam in 1987 where he interprets a fragile prisoner that Chow Yun-fat helps. In France, one saw him for the first time as an incorruptible police officer in Gunmen of Kirk Wong. This time is the right and it was the climax of his career when he accepted the role of the Lover of Jean-Jacques Annaud who made him known in the whole world (what could have been done much earlier if he had played in the Last Emperor of Bertolucci, rather than to choose the Chinese version of Li Han-hsiang who had asked for him first). Able to interpret delicate noble, fragile prisoner, idealistic policer, valorous knights, weak characters (in the famous Eagle Shooting Heroes and Rose Noire)... Tony Leung Kar-fai played enormously until 1997. Now, after problems with Triads, his career is idling, and one can even hear him sing !....
FILMOGRAPHY
Beijing Love Story 2014 Actor
Golden Chicken 3 2014 Actor
Horseplay 2014 Actor
Lost And Lonely 2014 Actor
Rise Of The Legend 2014 Actor
Better And Better 2013 Actor
King 2013 Actor
Tales From The Dark 2013 Actor
Cold War 2012 Actor
Tai Chi 0 2012 Actor
Tai Chi 2: The Hero Rises 2012 Actor
Cold Steel 2011 Actor
I Love Hong Kong 2011 Actor
72 Tenants Of Prosperity 2010 Cameo
Bruce Lee, My Brother 2010 Actor
Detective Dee - The Mystery Of Phantom Flame 2010 Actor
Devil Inside Me, The 2010 Actor
Johnnie Got His Gun ! 2010 Actor
Showtime 2010 Actor
Bodyguards And Assassins 2009 Actor
Founding Of A Republic, The 2009 Actor
I Corrupt All Cops 2009 Actor
Iron Road 2009 Actor
Ashes Of Time Redux 2008 Actor
Chinese Fairy Tale 2008 Actor
Missing 2008 Actor
Drummer, The 2007 Actor
It's A Wonderful Life 2007 Actor
Lost In Beijing 2007 Actor
Eye In The Sky 2006 Actor
My Name Is Fame 2006 Actor
Election, The 2005 Actor
Mob Sister 2005 Actor
Myth, The 2005 Actor
On The Mountain Of Tai Hang 2005 Brief appearance
Song Of Everlasting Regrets 2005 Actor
A-1 2004 Actor
Dumplings : Three... Extremes 2004 Actor
Fear Of Intimacy 2004 Actor
Papa Loves You 2004 Actor
Sex And The Beauties 2004 Actor
Three... Extremes 2004 Actor
Throw Down 2004 Actor
Twins Effect 2, The 2004 Actor
20:30:40 2003 Actor
Good Times, Bed Times 2003 Actor
Men Suddenly In Black 2003 Actor
Spy Dad, The 2003 Actor
Double Vision 2002 Actor
Golden Chicken 2002 Actor
Zhou Yu's Train 2002 Actor
Jiang Hu : The Triad Zone 2000 Actor
Okinawa Rendez-Vous 2000 Actor
Fist Of Hero 1999 Actor
Love Will Tear Us Apart 1999 Producer, Actor
Victim, The 1999 Actor
Destination - 9th Heaven - 1997 Actor
Island Of Greed 1997 Actor
Evening Liaison 1996 Actor
Christ Of Nanjing, The 1995 Actor
Dream Lover 1995 Actor
Lover Of The Last Empress 1995 Actor
Touch Of Evil, A 1995 Actor
Always Be The Winner 1994 Actor
Ashes Of Time 1994 Actor
God Of Gamblers' Return 1994 Actor
He And She 1994 Actor
I Will Wait For You 1994 Actor
It's A Wonderful Life ! 1994 Actor
Long & Winding Road, The 1994 Actor
Lover's Lover 1994 Actor
To Live And Die In Tsimshatsui 1994 Actor
All Men Are Brothers : Blood Of The Leopard 1993 Actor
Black Panther Warriors, The 1993 Actor
Boys Are Easy 1993 Actor
Eagle Shooting Heroes, The 1993 Actor
Flying Dagger 1993 Actor
Ghost Lantern 1993 Actor
He Ain't Heavy, He's My Father 1993 Actor
Lover Of The Swindler 1993 Actor
Roof With A View, A 1993 Actor
Rose Rose I Love You 1993 Actor
Sting 2, The 1993 Actor
Tom, Dick And Hairy 1993 Actor
92 Legendary La Rose Noire 1992 Actor
Center Stage 1992 Actor
Dragon Inn 1992 Actor
King Of Chess 1992 Writer, Actor
Misty 1992 Actor
Once Upon A Time A Hero In China 1992 Actor
Au Revoir Mon Amour 1991 Actor
Banquet, The 1991 Brief appearance
Blue Lightning 1991 Actor
Finale In Blood 1991 Cameo
Inspector Pink Dragon 1991 Actor
Island Of Fire 1991 Actor
Lover, The 1991 Actor
Pretty Ghost 1991 Actor
Red And Black 1991 Actor
This Thing Called Love 1991 Actor
To Catch A Thief 1991 Actor
Farewell China 1990 Actor
Her Fatal Ways 1990 Actor
Queen's Bench 3 1990 Actor
Raid, The 1990 Actor
She Shoots Straight 1990 Actor
Better Tomorrow III : Love And Death In Saigon, A 1989 Actor
Mr Coconut 1989 Actor
Sentenced To Hang 1989 Actor
Gunmen 1988 Actor
Laserman 1988 Actor
City Girl 1987 Actor
Lady In Black 1987 Actor
People's Hero 1987 Actor
Prison On Fire 1987 Actor
Last Emperor, The 1986 Actor
Journey Of The Doomed 1985 Actor
Cherie 1984 Actor
Ghost Informer, The 1984 Actor
Burning Of Imperial Palace 1983 Actor
Reign Behind A Curtain 1983 Actor
Credit
HKcinemagic