Post by galvatron prime on Mar 4, 2016 8:12:18 GMT
FUNG HAK ON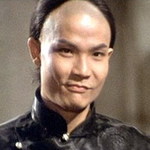 Other names : Feng Ke An
Kean Feng
Feng Ko An
Fong Hak Onn
Fung Hark On
Birthdate : 18/9/1949
Workplace : Hong Kong
Activities : Director (4), Action Director (35), Assistant Action Director (1), Actor (136), Brief appearance (20), Cameo (1), Stuntman (6)
BIOGRAPHY
Along with Lee Hoi San, Fung Hark-on is one of the ubiquitous heavies of Hong Kong martial art/stunt action cinema and with his devilish face, his treacherous ways and his habit of ogling and raping maidens on occasion, one of the meanest and most loathsome of all. But he was also a formidable on-screen fighter, a skilled action choreographer, and a sought-after collaborator for Jackie Chan and Sammo Hung.
Fung is the son of famed character actor/director Fung Fung. He trained at the Peking Opera Academy of Madame Fan Fok-fa alongside the likes of the aforementioned Lee Hoi-shang, Lam Ching Ying, Meng Hoi and Mars. In his teen years he played a baddie in Cantonese films, then became a stuntman for the Shaw Brothers Studio working in Chang Cheh movies under the supervision of Shaw's top action choreographer Lau Kar Leung.
One of his earliest appearances was as one of the henchmen who escape David Chiang's murderous wrath in the bloody finale of Vengeance ! (70). As time went-on, he started getting more visible bits such as playing David Chiang's carriage driver in the Boxer From Shantung (72) and he probably rose within the Lau stunt group as well to the position of assistant
Fung strayed a couple of times outside of the Shaw Brothers and thus he can be spotted as one of the hero's friends in the independent production Prodigal Boxer (72) whose fighting was choreographed by another Shaw strayed dog Lau Kar-Leung's own brother Lau Kar-wing with Fung likely working as his assistant. Also, Fung played a part in Young Dragons, the directorial debut of one of Chang Cheh's assistant directors - a young fellow by the name of John Woo. Thus began a peculiar habit by Fung of appearing in the debut of future top seminal performers/filmmakers of Hong Kong martial/action cinema. He would repeat this at least three more times, which goes to show how much in the middle of things he was. Fung also did the Young Dragons action choreography, his first fully fledge job in such a position.
When Chang Cheh moved to Taiwan in 1974 and started his Shaolin cycle, Fung at last began getting consistent roles in the heavy's parts as Manchu henchmen or Chinese collaborators: Heroes Two (74), Shaolin Martial Arts (74), Five Shaolin Masters (75), Disciples Of Shaolin (75) battling the likes of Alexander Fu Sheng, Chen Kuan Tai, and Chi Kuan Chun. Then when Chang Cheh and Lau Kar Leung parted ways, Fung stuck with Lau, went back to Hong Kong and once again played a henchmen in his mentor's directorial debut Spiritual Boxer (75), a major watershed movie of martial art's cinema as it was the very first time a fight choreographer ever graduated to fully fledged filmmaker.
After having played the student of a bad kung fu school in Lau's second picture, Challenge Of The Masters (76), Fung took his leave of him and somehow found his way to Shaw Studio's chief competitor Golden Harvest where he reaquainted himself with John Woo, who now worked there, and got acquainted with Golden's own house action director a big fella by the name of Sammo Hung. Forming his own stunt team, Fung did the stunt/action for Woo's comedic caper Money Crazy while also working as Sammo's assistant in the fight choreography of his directorial debut Iron Fisted Monk. Playing the film's chief villain, Fung is seen graphically raping a young woman and then displaying Mantis Fist to great effect in a whirlwind finale. Both films proved to be enormous successes - ranking two and six in 1977's box office chart.
With the full blooming of kung fu comedy, Fung was now busier than ever and he provided the action/stunt job for Follow The Star (78) another caper by John Woo, now dubbed the "king of comedy" by Golden Harvest. In Sammo's new film Warriors Two (78) he again did double duty as assistant and the film's chief villain, using once more mantis prey as his fighting style of choice. Dressed in a black robe and sporting a bald cap to enlarge his already prominent brow, Fung had truly a mantis like appearance reducing Sammo and co-star Casanova Wong to bloody pulps in a half visceral / half cartoony final showdown that would remain Fung's greatest ever fighting showcase of his career. In between his Golden Harvest assignments, Fung found time to do other work appearing in among others Dirty Tiger, Crazy Frog (78) co-starring Sammo, Dirty Kung Fu (78) by his old associate Lau Kar Wing and making a brief appearance in fight choreographer Yuen Woo Ping directorial debut, Snake In The Eagle's Shadow, the film that put Jackie Chan on the map. This was Fung's fourth and last debut in a director's career.
1979 saw the apex of Fung's collaboration with John Woo, providing superb and spectacular fight choreography for his swordplay revival Last Hurrah For Chivalry. He gave himself the role of a ruthless swordsman named "Prey", setting-up a memorable bloody duel between him, and hero Wei Ping, as well as a battle set in an candlelight filled chamber, between the heroes and his Peking opera brother Lee Hoi San. Then in Sammo and Yuen Woo Ping's collaborative work Magnificent Butcher Fung played one of his most extended parts ever as the bad seed son of a kung fu master (Lee again) raping and killing a maiden and framing poor Sammo for it. In the non-Golden Harvest Snake Deadly Act (80) Fung played an evil kung fu master who saves the life of a young kung fu kid and trains him in his snake style but for his own malevolent ends. This part and a couple of others showed that Fung was capable of going beyond being a mere fighting stooge - that he had the stuff of a capable character actor like Ku Feng before and Philip Kwok and Yuen Wah later on. But such was not his destiny and in fact with the action-stunt caper supplanting kung fu as Hong Kong's dominant form of action film, Fung drastically restricted his on-screen appearances to often no more than brief cameos and began dedicating himself to fight choreography.
When Jackie Chan became Golden Harvest's "Golden Boy", Fung became his assistant for Young Master (80), for Chan's misbegotten endeavor Dragon Lord (82), and then a couple of years later Police Story (86), where he played the part of the evil nephew Johnny, seen throwing female lead Brigitte Lin into a glass casket before being kicked in the chin by Jackie and doing a back flip on top of a moving escalator. In between these projects Fung worked on Tsui Hark's groundbreaking hallucinogenic wire-fu swordplay Zu : Warriors From The Magic Mountain (83) where he portrayed, along with co-fight choreographer Corey Yuen, one of the lightning demons. He also remained a regular fight-extra on Sammo's pictures such as Winners And Sinners (85), Yes, Madam(part deleted) (85) and Heart Of Dragon (85).
After having been in so many directorial debuts by others, Fung had at long last his own in 1981 with Gold Hunters that is said to be a worthwhile effort. He has directed twice more since then - the horror film Miss Magic (88) co-starring his own sister famed actress hklink type=personne>Petrina Fung Bo Bo, and the Yukari Oshima vehicle Godfather's Daughter Mafia Blues (91). Through it all his main occupation however remained as a sought-after action director for such films as Michelle Yeoh's Magnificent Warriors (87), Che Kirk Wong's Gunmen (88) and Eddie Fung's Kawashima Yoshiko - The Last Princess Of Manchuria (90). With Burning Ambition (89) Fung began a solid association with action star/director Frankie Chan, choreographing both Outlaw Brothers (89) (with helping tips from Jackie Chan himself) as well as Fun And Fury (92) and appearing as a legless kung fu master walking on stilts in Warrior's Tragedy (93). Another durable association was with Snake Deadly Act 's director, action choreographer Wilson Tong, which continued with Ghost Ballroom (89), The Sniper (90) and Ghostly Bus (95). What Fung has done ever since is somewhat difficult to discern but it appears likely that he may have retired.
Some other noteworthy appearances by Fung include: Enter The Fat Dragon (78), Descendant Of Wing Chun (78), Dreadnaught (81), Legend Of A Fighter (82) and Handsome Siblings (92). He probably did some TV too but I have no information on that area.
Yves Gendron
Credit
HK Cinemagic