Post by galvatron prime on Sept 26, 2014 8:11:53 GMT
Elliot Ngok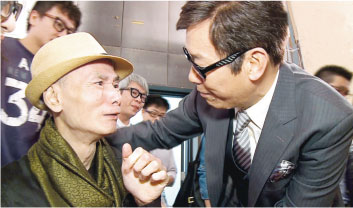 Elliot Ngok Wah, better known as Yueh Hua, is a former Shaw Brothers actor and veteran TVB actor.
BIOGRAPHY
Although his family is from Canton, Yueh Hua was born in Shanghai, under the name of Liang Le Hua (a.k.a. Elly Leung).
After training at the Shanghai Music Institute, he came to Hong Kong in 1962. A year later he entered into the acting class by the Shaw Brothers after a stint with the Southern Drama Group. He was cast opposite the soon to be crowned "Queen of Kung-fu films" Cheng Pei Pei (star of "Crouching Tiger, Hidden Dragon") first in: "Princess Iron Fan", then in "Come Drink With Me", considered by many to be the precursor for all swordswomen films to come and King Hu's most influential film done at Shaw Brothers. Yueh's character from "Come Drink With Me" is still considered the classic.
During the 1960's and 1970's he averaged starring in five films per year with all the Shaw's main leading actresses in mostly classic martial art films, such as Chin Ping's "Killer Darts", Cheng Pei Pei's "Lady of Steel" and "The Shadow Whip" and in Taiwan's kung-fu queen Shih Szu's "The Young Avenger" and "The Villains". He topped off his career with a final appearence in Jackie Chan's "Rumble in the Bronx". A filmcareer that spanned more than 30 years with over 90 films.
Yueh and his wife Tanny Tien Ni live in Canada. Lately he became the chairman of the association of preforming artists in Canada. (IVL)
Career
Elly was born Leung Lok Wah in Shanghai, with native Cantonese roots. He immigrated to Hong Kong in 1962. He joined Shaw Brothers and started his acting career in 1965. His breakout film role was in 1966's Come Drink with Me. He was mainly cast in a lead role.
Elliot is best known for his role in Looking Back in Anger, one of TVB's popular shows. Elliot moved to Canada in the 90s, but returned to Hong Kong.
Film
Three Kingdoms - Resurrection Of The Dragon 2008 Actor
Brink Of Law, The 2007 Actor
Confession Of Pain 2007 Actor
Wo Hu 2006 Actor
Faithfully Yours 1995 Actor
Rumble In The Bronx 1995 Actor
Just Heroes 1989 Actor
Princess Madam 1989 Actor
Snuff Bottle 1988 Writer, Actor
In The Line Of Duty 3 1987 Actor
Siamese Twins, The 1984 Actor
18 Bronzegirls Of Shaolin, The 1983 Actor
Enchantress, The 1983 Actor
On The Wrong Track 1983 Actor
Coolie Killer 1982 Actor
Hell Has No Boundary 1982 Actor
Mahjong Heroes 1982 Actor
My Blade, My Life 1982 Actor
Spirit Of The Sword, The 1982 Actor
Super Dragon 1982 Actor
Art Of War 1981 Actor
Black Lizard 1981 Actor
Duel Of The Century, The 1981 Actor
Eagle's Claw And Butterfly Palm 1981 Actor
Faces And Places 1981 Actor
Imp, The 1981 Actor
Ninja Supremo 1981 Actor
Return Of The Sentimental Swordsman 1981 Actor
Bruce Tuan's 7 Promises 1980 Actor
Citizen Shaw 1980 Actor
Deadly Secret, A 1980 Actor
Fatherland 1980 Actor
Heroes Shed No Tears 1980 Actor
Master And The Kid 1980 Actor
Art Of War By Sun Tzu 1979 Actor
Deadly Confrontation 1979 Actor
Dream Sword, The 1979 Actor
Face Behind The Mask, The 1979 Actor
Full Moon Scimitar 1979 Actor
Ghost Story, The 1979 Actor
Green Dragon Inn 1979 Actor
Idiot Swordsman, The 1979 Actor
In The Beginning 1979 Actor
Monkey Fist, Floating Snake 1979 Actor
Ninja Wolves 1979 Actor
Red Phoenix 1979 Actor
Return Of The Dead 1979 Actor
Clan Of Amazons 1978 Actor
Filthy Guy 1978 Actor
Kung Fu Girls 1978 Actor
Legend Of The Bat 1978 Actor
Lung Wei Village 1978 Actor
Murder Of Murders, The 1978 Actor
Snake In The Crane's Shadow 1978 Actor
Souls Of The Sword, The 1978 Actor
Unique Lama, The 1978 Actor
Vengeful Beauty, The 1978 Actor
Voyage Of Emperor Chien Lung, The 1978 Actor
Adventures Of Emperor Chien Lung, The 1977 Actor
Chivalry, The Gunman And Killer, The 1977 Actor
Clans Of Intrigue 1977 Actor
Death Duel 1977 Brief appearance
Dream Of The Red Chamber, The 1977 Actor
Invincible Swordswoman 1977 Actor
Jade Tiger 1977 Actor
Lady Exterminator 1977 Actor
Sentimental Swordsman, The 1977 Actor
Beautiful Vixen 1976 Actor
Criminals, The 1976 Actor
Drug Connection, The 1976 Actor
Erotic Nights 1976 Actor
Fierce Fist, The 1976 Actor
Killer Clans 1976 Actor
Last Tempest, The 1976 Actor
Love Swindlers 1976 Actor
Moods Of Love 1976 Actor
Shaolin Temple 1976 Actor
Web Of Death, The 1976 Actor
All Men Are Brothers 1975 Brief appearance
Big Hold Up, The 1975 Actor
Black Magic 1975 Actor
Born Of Fire 1975 Actor
Lover's Destiny 1975 Actor
Mutiny On The High Sea 1975 Actor
Supermen Against The Amazons 1975 Actor
That's Adultery ! 1975 Actor
Hong Kong 73 1974 Actor
Sex, Love And Hate 1974 Actor
Sorrow Of The Gentry 1974 Actor
Two Faces Of Love, The 1974 Actor
Village Of Tigers 1974 Actor
Virgins Of The Seven Seas 1974 Actor
Facets Of Love 1973 Actor
Five Kung Fu Daredevil Heroes 1973 Actor
House Of 72 Tenants, The 1973 Actor
Illicit Desire 1973 Actor
Iron Bodyguard, The 1973 Actor
Payment In Blood 1973 Actor
Villains, The 1973 Actor
Casino, The 1972 Actor
Fourteen Amazons, The 1972 Actor
Intimate Confessions Of A Chinese Courtesan 1972 Actor
Lizard, The 1972 Actor
Pursuit 1972 Actor
Trilogy Of Swordsmanship 1972 Actor
Water Margin, The 1972 Actor
Young Avenger 1972 Actor
Invincible Sword 1971 Actor
Long Chase, The 1971 Actor
Shadow Whip, The 1971 Actor
Vengeance Of A Snowgirl 1971 Actor
Brothers Five 1970 Actor
Lady Of Steel 1970 Actor
Twelve Gold Medallions, The 1970 Actor
Dragon Swamp 1969 Actor
Raw Courage 1969 Actor
Vengeance Is A Golden Blade 1969 Actor
Black Butterfly 1968 Actor
Death Valley 1968 Actor
Killer Darts 1968 Actor
Mist Over Dream Lake 1968 Actor
Hong Kong Nocturne 1967 Actor
Sweet Is Revenge 1967 Actor
Sword And The Lute, The 1967 Actor
Trapeze Girl 1967 Actor
Come Drink With Me 1966 Actor
Monkey Goes West, The 1966 Actor
Princess Iron Fan 1966 Actor
Lark, The 1965 Actor
TV Series
All That Is Bitter Is Sweet (TVB, 2014)
Storm in a Cocoon (TVB, 2014)
Outbound Love (TVB, 2013)
Gilded Chopsticks (TVB, 2014)
Will Power (TVB, 2013)
Slow Boat Home (TVB, 2013)
Blissful Ferris Wheel (TVB, 2013)
The Confidant (TVB, 2012)
Be Home for Dinner (TVB, 2011)
Grace Under Fire (TVB, 2011)
No Regrets (TVB, 2010)
A Great Way to Care (TVB, 2009)
Rosy Business (TVB, 2009}
The Gem of Life (TVB, 2008)
The Slicing of the Demon (TVB, 2007)
The Brink of Law (TVB, 2007)
Below the Lion Rock 2006 (TVB, 2006)
Fu Gui Lau Mun 富貴流氓 (TVB, 1989)
Looking Back in Anger (TVB, 1989)
Jut Dui Sheung Gil 絕代雙驕 (TVB, 1988)
And Yet We Live
當代男兒
Ming Mun 名門 (TVB, 1988)
The Book and the Sword 書劍恩仇錄 (TVB, 1987)
TheSword of the Yue Maiden
越女劍
Seasons (TVB, 1987)
Gone with the Wind (ATV, 1980)
Fatherland 大地恩情 (ATV, 1980)
Credit
wikipedia/dramawiki/hkcinemagic