Post by Ah Ke on May 4, 2017 4:23:37 GMT
The Glory of Tang Dynasty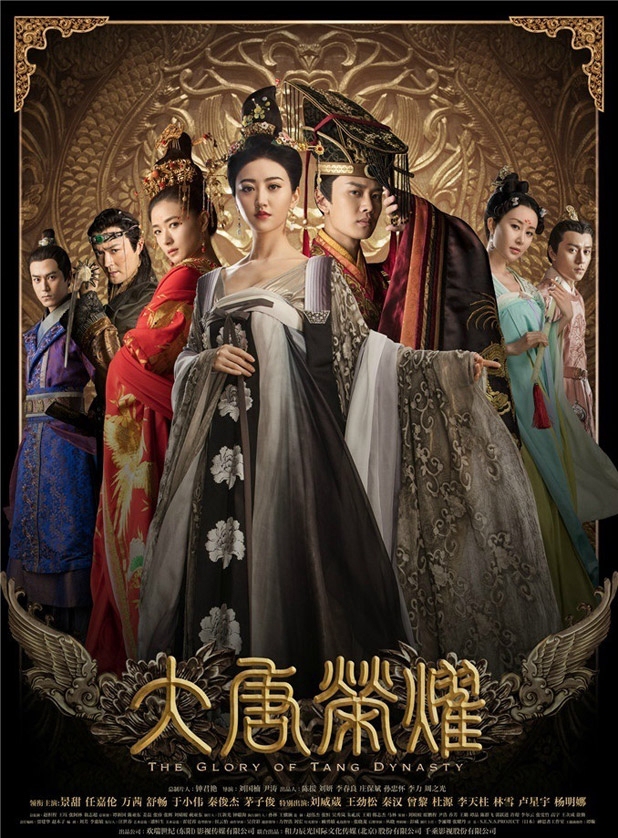 The Glory of Tang Dynasty (Chinese: 大唐荣耀) is a 2017 historical television series starring Jing Tian and Allen Ren. It is based on the novel "The Concubine of Tang: Legend of Pearl (大唐后妃传之珍珠传奇)" by Cang Mingshui.
Synopsis
The story of Shen Zhenzhu, the concubine of Emperor Daizong while he was the Prince Li Chu of Guangping. Zhenzhu was an ordinary girl from Jiangnan. Kind-hearted and noble, she stayed behind during the Rebellion of An Lu Shan in order to show solidarity with the Tang citizens. Although she was captured by the opposing force, she never gave up protecting her people, and remained loyal to her husband despite the persuit of Moyan Chou, a Uyghur general.
After peace was restored, Li Chu was determined to relocate her and bring her back to the palace, ignoring the advice of his fellow officials. However, Zhenzhu refused to return to the palace with him, as she knew her time as a hostage would jeopardize his chance of succeeding the throne. She chose to disappear from the Royal court life and live among the people she spent her whole life protecting.
Cast
Main
Jing Tian as Shen Zhenzhu
Allen Ren as Li Chu
Royal Family
Shu Chang as Murong Linzhi
Qin Junjie as Li Tan
Liu Weiwei as Empress Zhang
Wang Jinsong as Emperor Suzong
Zhang Weina as Li Ruo
Tang Jingmei as Cui Caiping
Zeng Li as Noble Consort Yang
Qin Han as Emperor Xuanzong
Fang Xiaoli as Crown Princess Wei
Pu Shuo as Li Xi
Officials
Wan Qian as Dugu Jingyao
Mao Zijun as An Qingxu
Huang Yi as young An Qingxu
Du Yuan as Yang Guozhong
Li Tianzhu as Li Fuguo
Lam Suet as An Lushan
Lu Xingyu as Shi Siming
Chang Cheng as Li Mi
Qu Gang as Zhangsun E
Uyghurs
Yu Xiaowei as Moyan Chuo
Ma Chengcheng as Hasili
Zhao Dongze as Ye Hu
Luo Mi as Zhemi Yi
Wang Xiaowei as Nibibei
Guo Ruixi as Aqi'na
Others
Cao Xige as Feng Shengyi
Liang Jingxian as He Lingyi
Xu Siyu as Hongrui
Mi Mi as Suci
Yang Mingna Lady of Han
Feng Li as Zhang Deyu
Huang Tianqi as Shen An
Liu Fang as Madam Jiang, Zhenzhu's mother
Ma Xiaofeng as Gao Lishi
FAROM wikipedia